Fair Shake Environmental Legal Services
Guest Blog by Josh Eisenfeld, Director of Marketing with Fair Shake Environmental Legal Services
Fair Shake Environmental Legal Services looks maps the origin of their intake calls and reflects on their geographic distribution as it relates to areas with heavy environmental burdens.
Over the last five years, Fair Shake Environmental Legal Services has worked in Ohio and Pennsylvania to promote environmental justice by providing legal services at income-based rates. Our service area has a long history of extraction, from timbering, conventional drilling for oil, multiple forms of mining, and unconventional drilling for natural gas. Because of our proximity to these resources, we also have a long history of industrial manufacturing, which can be evidenced by the many oil refineries, steel production facilities, power plants, cement factories, factory farms, and chemical production facilities. Fair Shake offers counsel and representation in environmental law with accessible, sliding scale fees, and we receive a continuous stream of phone calls from those on the front lines. We were curious to see if our intake calls correlated with geographic areas with heavy environmental burdens in order to allocate our limited resources to those regions most efficiently.
With the help of Ted Auch from FracTracker Alliance we collected zip codes from nearly 600 of intake calls received by Fair Shake and placed them on the map below.
View map fullscreen | How FracTracker maps work
In general, our intakes in Pennsylvania mirror the Marcellus Shale formation. Over the last decade and a half, technical advancements in drilling have transformed the Marcellus Shale formation from a nonproducing region to the largest producing natural gas formation by volume in the world. Entering 2005, only 13 "unconventional" wells had been drilled in the Marcellus Shale region of Pennsylvania, where today there are roughly 12,000 wells according to FracTracker's PA Shale Viewer Map. Reduced regulations for unconventional drilling and infrastructure have facilitated this rush for production, resulting in an influx of compressor stations, gathering lines, pump stations, processing plants, wastewater impoundments, wastewater treatment facilities, wastewater injection wells, and more.
We believe that this map indicates that these 12,000 wells place a significant burden on residents living within this region. Speaking broadly, reduced regulation has left loopholes in major environmental laws that have to get justice when their rights have been violated and, even more concerning, when harm has occurred.
One of the most prominent manifestations of this burden is the contamination of private drinking water sources near drilling and wastewater sites. Our region's history of extraction and industrial enterprise and the pollution associated with these industries makes it extremely difficult to prove, in court, that drilling activity is the sole cause of damage to private wells. The fact is that our groundwater (and therefore private drinking wells) has been contaminated over and over again. Polluters use this to their advantage, leaning on the uncertainty of what caused the contaminants in question to get there. Simply put, water contamination is not a question of whether contaminants exist (they do) it's a question of how can you prove that it was a given industry when there are many other possible culprits.
One thing we do know is that the number of reports for well contamination has increased in conjunction with the increase in drilling activity. The graph below, created by FracTracker and The Public Herald, shows the correlation of wells drilled, complaints to the Department of Environmental Protection, and complaints specifically about water.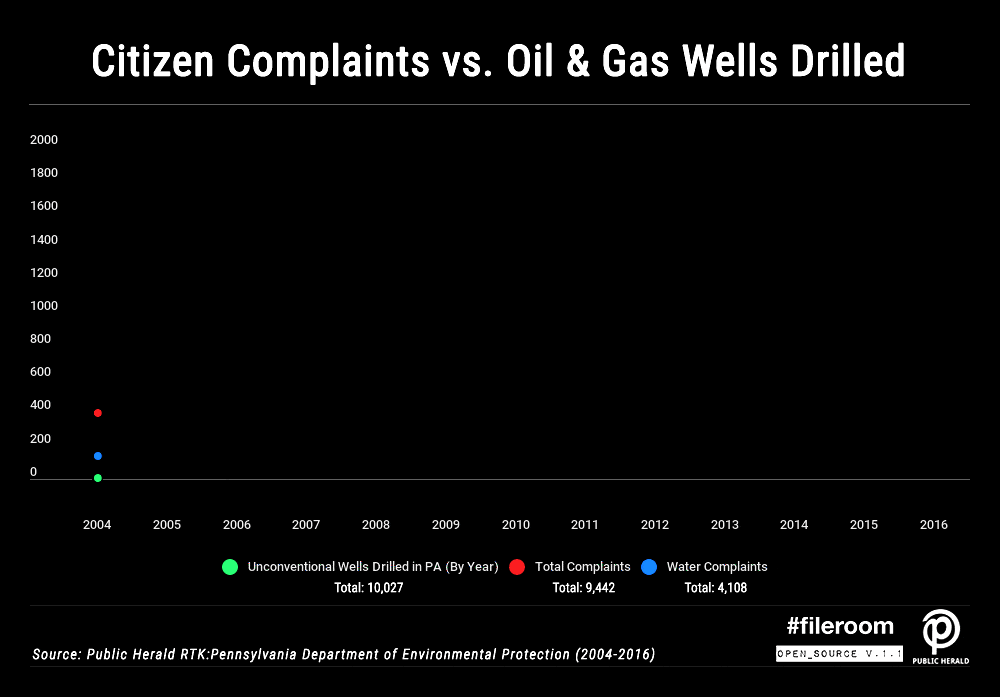 Upon closer examination of the intake map, we saw a higher density of cases in more populated areas of Allegheny County, which actually has very little fracking activity (less than 170 drilled wells). But Allegheny is also one of the most polluted counties in America. The American Lung Association gave the county all F's on its air quality and ranked it as 7th worst air quality in the nation according to the association's state of the air. Allegheny County is also home to two of the most polluted rivers in our country: the Monongahela and the Ohio. Over a century of industrial activity and coal mining have impaired the water but most recently sewer overflows from the city of Pittsburgh have sent dangerous levels of raw sewage into the surrounding waterways.
The population density combined with the very poor air and water quality could be the explanation for the anomaly. Furthermore, Allegheny County is also where our Pittsburgh office is located, which is perhaps the reason that we see so many cases in this region and not in other regions of high population density such as Philadelphia, Harrisburg, or Scranton.
When we started this project, we thought we would discover a correlation between intakes and regions with the heaviest environmental burdens. This could allow us to allocate our limited resources to those regions most efficiently. Unfortunately, the problem is not so simple.
As evidenced by the intake map, resource extraction in Ohio and Pennsylvania is spread over a very large area. That is troubling because the bigger the problem geographically the harder it becomes to deal with. We need to devote far more resources to protecting individuals who face spills, emissions, erosion, impacts to wetland, etc. By speaking more openly about how pervasive these environmental risks are, and how that risk plays into the bigger picture of the climate emergency, we hope we can incite folks to give their time, effort, and resources to defending their health and environment.
By Josh Eisenfeld, Marketing Director at Fair Shake Environmental Legal Services
https://www.fractracker.org/a5ej20sjfwe/wp-content/uploads/2019/10/tree-feature-scaled.jpg
667
1500
Guest Author
https://www.fractracker.org/a5ej20sjfwe/wp-content/uploads/2021/04/2021-FracTracker-logo-horizontal.png
Guest Author
2019-10-01 16:56:33
2021-04-15 14:55:40
Fair Shake Environmental Legal Services